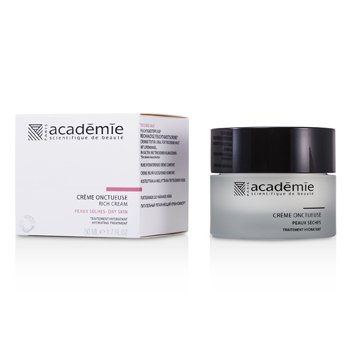 Academie 100% Hydraderm Rich Cream Moisture Comfort 50ml/1.7oz

Brand: Academie
Product Ingredients: Original apple water, Trehalose complex and vegetable proteins, Beet extract,  Imperata cylindrica extract ,Solanacea extract, Aloe vera, Macadamia oil, Cassia angustifolia extract, Sodium hyaluronate
Boasts: instant hydration and maintains optimum hydration rate
Ideal for: Ideal for skin prone to dryness showing a lack in lipids, those living in cold and dry climates.
Source: bought it online
Winter was a tough time for my skin
Because I was pregnant and constantly tired, my skin was suffering from dryness and dullness. This winter has been particularly trying with its cold snaps and dry winds. I was lucky to find this on sale, to make my trial more worthwhile. To maintain my skin, I was using Palmer's Skin Oil, as well as this cream. Honesty, I was piling up a few layers of products, just to keep it from looking fatigued.
Academie has a few products that contain the Original Apple Water, but I chose the cream because I have decided to use this as my last layer of defense. The recommended frequency is after cleansing, twice a day, which I did not dutifully follow. Sometimes I skip it, but I did try to apply it as regularly as I can. With a skin oil, I felt that it was not as necessary to be so diligent.
So that is how I know that this works, there is a difference when I apply it. The cream is fairly thick, but it goes on smoothly. As the last layer of my routine, it is easy to let it warm up on my face before working it into my skin. I would target the driest areas of my face: cheeks, nose and forehead. Even with my T- zone combination skin, the forehead can get dry despite the oiliness during summer.
The verdict?
Academie should be proud of this hydrating cream. I really hope that they keep this range for a long time, because it is awesome. I just used the rich moisture cream for now, but since trying to write this post, I realize that Hydraderm is actually a range. Worth recommending to those who have dry skin but are also  looking to look radiant, this is something you should try.
Other products in the same range:
Copyright © 2016 Ailyn Writes. All Rights Reserved.